(to right and far right) Pencil and Ink Draft of Botanical Illustration
This notecard set begins with a card that has a technical pen and ink drawing on the front, with a portion of the pencil draft shown on the back side of the card.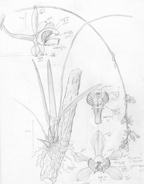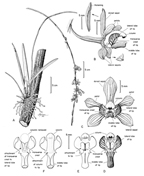 (to right) Paint the Onion
A notecard showing a classic excercise for learning how to paint watercolors: they are built up, one layer at a time.
(far right) Painting White Flowers: Calla Lily
A card of the white flowers of Calla Lily. The challenge of painting white flowers is how to make them show up on the page. The three flowers here are executed a. by exagerating values (darks and lights) (on left), b. by using a dark background (center), and c. by using an ink or other dark outline (right).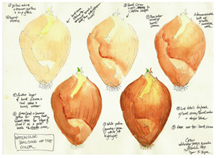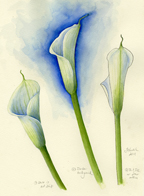 Orchid, new subspecies, PENCIL draft
Orchid, new subspecies, INK draft
Watercolor excercise
Calla Lily
(to right and far right) Value study and three watercolors of a white orchid flower
One notecard has the value study on the front, and on the back the study with ink outline, and the study with the green background, showing different ways to paint white flowers. Another notecard has the flower with the blue background on the front. The final notecard in this 6-pack is the "ta-da" example of a fnished study.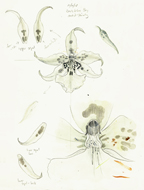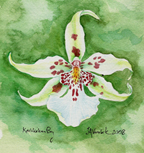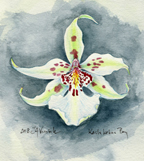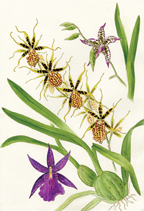 Bllra. Tahoma Glacier 'Sugar Sweet', Value Study
Bllra. Tahoma Glacier 'Sugar Sweet', Pen and Ink with Watercolor
Bllra. Tahoma Glacier 'Sugar Sweet', Watercolor
Bllra. Tahoma Glacier 'Sugar Sweet', Watercolor
Medley of Oncidiiae, Watercolor