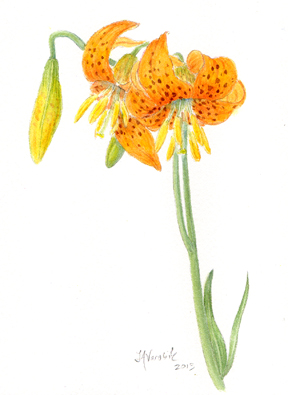 click on image for detail view
Leopard or Panther Lily

Lilium pardalinum-click on image for detail view

Family: Liliaceae

Original: 8 by 10 inches framed; $300, contact Vorobik if interested.

Cards are invitation sized on watercolor paper with a deckled edge
Leopard Lily or Panther Lily (Lilium pardalinum)
Liliaceae ~ Lily Family
A species which includes five subspecies: ssp. pardalinum, pitkinense, ssp. shastense, ssp. vollmeri , and ssp. wigginsii. Plants of this species are found in the mountains from southwestern Oregon to southern California. This painting was done from an amazingly tall plant growing in a subalpine meadow along the Pacific Crest Trail on Mount Ashland. Flowers of this species are supposedly not fragrant; if you meet one, test this theory!
Large showy lilies are in cultivation, and should never be picked or otherwise collected from the wild.
Do purchase from a nursery, and try them in your garden!